Sotiris I. Patsios (Communication and Project Management – ELGO-DIMITRA)
Sotiris holds a Dipl. Ing. in Chemical Engineering, with highest honors, and a PhD in Chemical Engineering from Aristotle University of Thessaloniki. He has been involved as a Research Associate in numerous R&D projects funded by the European Commission, national funding agencies, and private entities on advanced waste treatment technologies, valorisation of agro-industrial wastes, assessment of environmental impacts, and development of sustainable circular economy value chains. He has also significant experience on R&D administration activities, and on organizing dissemination and training events (Workshops, Multiplier Events, etc.) in various fields, including animal welfare. In TechCare project, he acts as the communication and administration manager for ELGO-DIMITRA.
Michael Kakanis (National Workshop Facilitator – ELGO-DIMITRA)
Michael is an official veterinarian working at the Department of Veterinary Services in Pieria Regional Unit of the Region of Central Macedonia in northern Greece. He has a MSc degree in Environmental Policies and Management and currently he is a PhD candidate at the School of Veterinary Medicine of Aristotle University of Thessaloniki. His main research interests are on health and welfare issues of farm animals and the use of precision livestock farming technologies. In TechCare project, he serves as the National Workshop Facilitator acting as the main contact point for the Greek stakeholders and ensuring the harmonization of the whole diversity of stakeholders' opinions.
Heather McDougall (Post-doctoral research Scientist – MRI)
Heather completed a BSc in Zoology at Edinburgh University and developed a keen interest in parasites. She was lucky enough to work as a summer student at Moredun after graduating, where she assisted on some of the early TST trails before going on to a Research assistant post maintaining cultures of parasitic worms that infect cattle as well as assisting in a number of large-scale vaccine trials in cattle and sheep. She completed her PhD in 2011, which focused on identifying hidden antigens in the Liver fluke Fasciola hepatica. Heather grew up on a hill farm in rural Perthshire where her family farm 1200 Blackface ewes and 90 cows. At home, she is married to Stuart, a sheep farmer, and has two daughters Ailsa (8) and Iona (6) who love helping out with their 350 sheep. To relax she loves to bake or get outside and walk.  Heather is very interested in how implementing novel technologies could assist farmers and help identify disease before it becomes a problem. In TechCare, Heather will conduct the pilot trials as part of WP1 and 5.
Gaëlle Chéruy Pottiau (Chief Service Officer – Agdatahub) 
Gaëlle is an agricultural engineer with a degree in management of agricultural and agri-food cooperatives. She used to manage complex projects in the field of professional electronic exchanges and the standardization of agricultural data. She has to her credit the standardization of a dozen agricultural EDI messages at UNCEFACT (United Nations) and the development of harmonized code repositories used in parcel exchanges in France. Gaëlle will help TechCare's members to understand how the API platform will facilitate their data exchange.
Thomas Gomez (Project manager in digital agriculture – Agdatahub)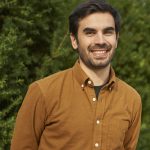 Thomas is an AgroTIC engineer with a dual expertise in agronomy and digital technologies. His experience in the field and in IT project management in several organizations has enabled him to tackle a wide range of concrete problems related to the collection and use of data in the agricultural sector. He works for Agdatahub under the direction of Gaëlle Chéruy Pottiau. In the TechCare project, Thomas is the main contact to connect the group members to the platform API-Agro and guide them through the different functionalities.